---
---
CENTURY OLD RINGLING BROS. PARADE PHOTO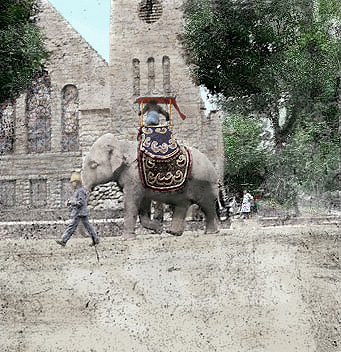 Photo Courtesy Steven C. Schmidt
Color Courtesy Chas. Holman
I recently located this very rare and VERY FADED photo of a RINGLING BROS. Street Parade which took place on August 26, 1898 in the city of Owosso, Michigan. The original print is so faint that the image is quite hard to discern with the naked eye.
Nevertheless, thanks to digital enhancement, I managed to increase the contrast enough so that you are now able obtain a fairly good view of this truly ancient illustration.
The elephant, with his helmeted attendant, can be seen heading south on North Washington Street. The First Congregational Church, visible in the background, is still standing at the southwest corner of Washington and Williams Streets.
---
AN 1899 CIRCUS PARADE IN OWOSSO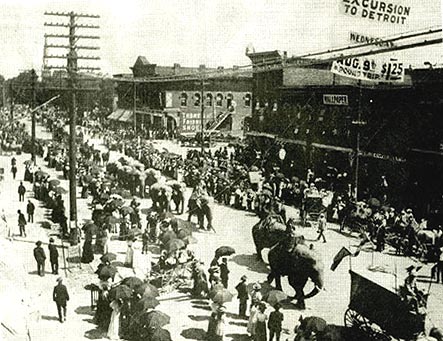 Here is another photo supplied by Steven Schmidt. It also shows a Circus Parade southbound on North Washington. Although the name of the show is not available, we can see that it must have been a rather large one because of all the elephants the organization was able to support.
---
HOW OLD IS IT?

A few years ago Steven Schmidt, owner of the parade photos appearing above, gave me this RINGLING BROS. pennant. I've been wondering when it was manufactured. According to one of the visitors to this site, Mike Hughes, it dates back to the 1958 season.
---
Please go to THE NEXT PAGE where you can see more mementos from the BIG TOP days of the Ringling Bros. and Barnum & Bailey Circus.
Or Return to THE HOME PAGE