---
RINGLING'S 1934 PROGRAM WITH EQUESTRIENNE DOROTHY HERBERT FEATURED ON THE COVER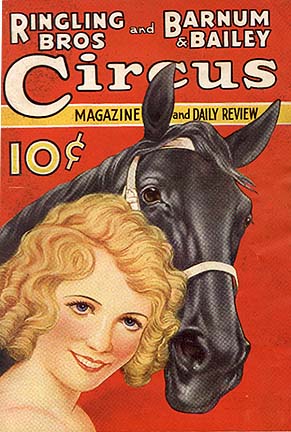 Other well known performers that season were:
Con Colleano, the dancing, tumbling, somersaulting acrobat on the wire.
The Wallenda High Wire Troupe.
The Flying Concellos, the peerless, daring artists of the Flying Trapeze.
The Yacopis, world-renowned acrobats, originators ot the triple somersault.
The Great Hugo in which TWO living persons are fired in the same instant from a monster repeating cannon.
The Celebrated Loyal-Repenski Family, a troupe of bareback riding marvels whose equals do not exist.
Plus OTHERS too numerous to mention performing on the 7 rings and stages.
---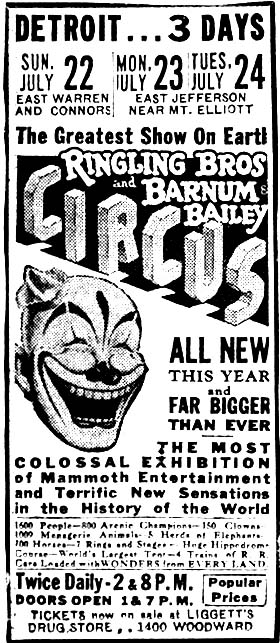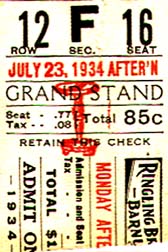 ---
Little did I realize, on July 23, 1934, as I sat directly in front of the center ring, across the tent from the bandstand, what was happening that very moment a few miles to the north of me at Detroit's Harper Hospital. We are all aware of the motto, "The Show Must Go On" and it certainly did that afternoon at the corner of Jefferson and Adair (not far from the Mt. Elliott mentioned in the newspaper ads). The Wallendas bicycled across the high wire, Hugo Zacchini flew out of the cannon's mouth and Dorothy Herbert peformed with her well trained horse. Nothing seemed amiss to those of us in the audience that afternoon. We enjoyed the magnificent performances that only the giant Ringling organization could provide.

However, one student nurse was a very busy individual that same day. You can read about her experiences if you click the following link which tells of Ringling's typhoid fever outbreak in an excerpt from her book HOSPITAL which begins on THE NEXT PAGE.
---
Or, you may RETURN TO THE HOME PAGE.
---