THE GREAT WALLENDAS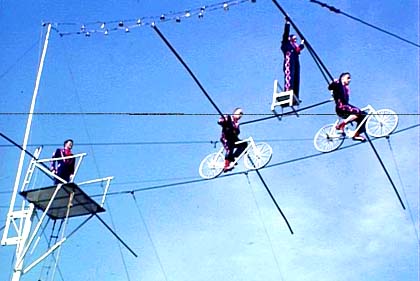 Here are the Great Wallendas performing not long after
their disastrous January 30th, 1962 Shrine Circus accident in Detroit.
This photo was shot at the Pontiac Mall, now
known as Summit Place, in Waterford Township, Michigan
during May of 1962. Karl Wallenda is on the chair and
Gunther is the lead cyclist. Herman is at the rear. The fellow
standing on the pedestal at the left might be Hi-Wire Mike McGuire
who worked with the Wallendas from time to time.

---
AL G. KELLY AND MILLER BROS. CIRCUS
AUGUST, 1953.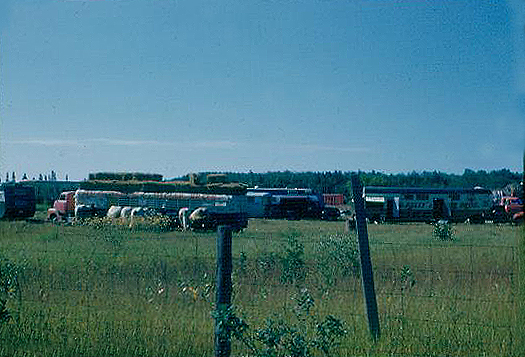 It is early on a Sunday morning at the airport, just north
of St. Ignace, Michigan in August of 1953.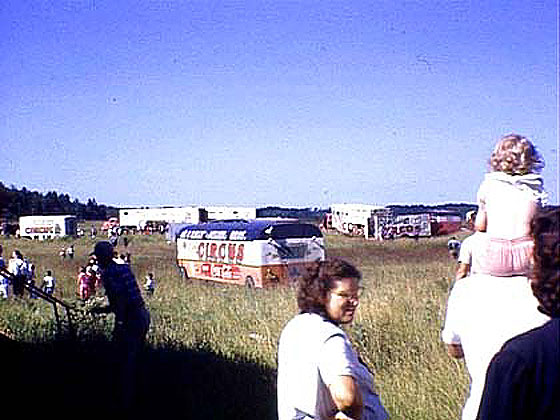 Although a rather
modest motorized show, Al G. Kelly & Miller Bros. is reputed
to have netted more than Ringling Bros. that particular season!
---
Please turn to the next page where you can see THE CARSON & BARNES CIRCUS Setting Up In MILFORD, MICHIGAN, August 18, 1998.