BARNUM'S KALEIDOSCAPE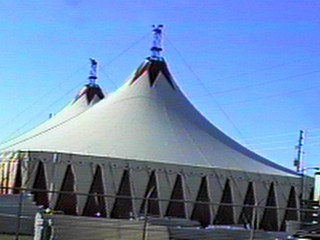 Photo ©1999 by Bobby Hakes
The tents shown on this page created quite a bit of excitement when they first appeared in the Sarasota area. They were for use by a brand new Ringling operation known as BARNUM'S KALEIDOSCAPE.
David Larible, a talented clown who has been with Ringling for a number of years was the KALEIDOSCAPE'S featured perfomer. In addition there were aerial acts, comedy routines and even an ORCHESTRA. The show's director was Raffaele DeRitis of Italy.
After a 10 day shakedown at the Sarasota County Fairgrounds, the show headed toward California. It finally found its way to Michigan where it was filmed in the city of Southfield.
The KALEIDOSCAPE was housed in three tents, two with two masts and one with four masts. The two masted tent which appears above was the Marquee with concessions and a reception area. The four masted tent below was the BIG TOP which housed 1800 plush theater type seats, and boasted a carpeted wood floor. No person sat more than 50 feet from the single ring. The performance lasted about 2 1/2 hours.
There was another two masted tent, not visible here, which contained exhibits and served as the exit.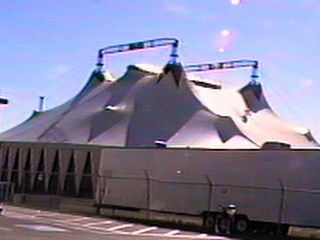 Photo ©1999 by Bobby Hakes
---
SOUTHFIELD, MICHIGAN--JUNE 27, 2000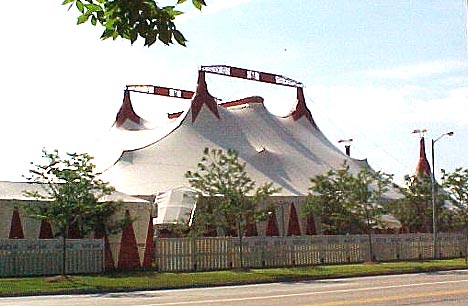 Main Tent as viewed from the west side of Southfield Road.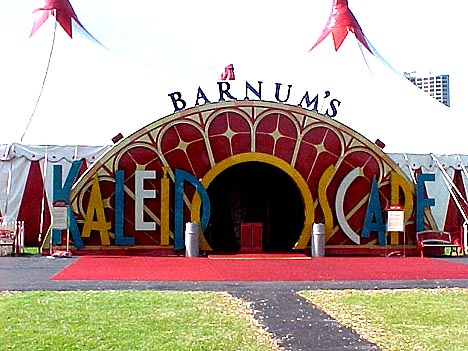 Main Entrance. Note the red carpet which had been laid down for use by the paying customers.
---
Turn to the next page for a view of a 1983 FORD BROS. CIRCUS POSTER.
Or you may go back to the CIRCUS INDEX